Emperor Zone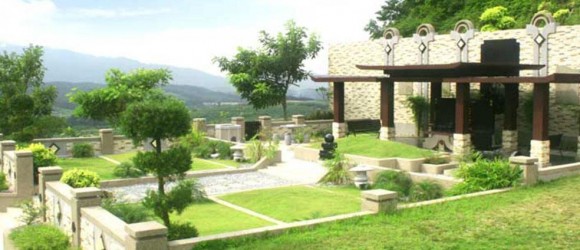 Emperor Zone is the ultimate plots with excellent Fengshui which fir for noble, rich and famous.Each plot at Emperor Zone is a symbol of the status of the purchaser and will help descendants of the purchaser to keep track of the past glory of the purchaser. It is also possible to sanctify the remains of prominent ancestors, who had long departed, by relocating the remains here as a perpetual tribute to them, with all their distinguished achievements vividly inscribed.
Zone UB
This particular piece of land sits on Ting(S3) Gua, faces Kui(N3) direction. The land is welled protected by left Green-Dragon and right White-Tiger arms.A set of Qi flows from Qian Gua brings along enormous wealth luck. The pond situated at Tui Gua accumulates greater monetary fortune. A clear stream surrounds the Green Dragon, reaches Qian Gua mountain, and provides greater wealth. The stream carries along Qi and exits at Gen Gua mountain, helps the family to have offspring with distinguished nobility.Sitting on the great auspicious 9th Period line, it contributes enormous great fortunes during the 8th and 9th period, thus helps in producing great wealth and distinguished nobility. The auspicious piece of land that contributes enormous fortunes is dedicated to those who deserves great destiny.
Peace Garden
Peace Garden is a landscape of artworks created over a sprawling 3 acres within the Nirvana Memorial Park, Semenyih. Designed along the lines of contemporary aesthetics and elegance, thereby creating an atmosphere of peacefulness for the resting of the departed love ones. The tranquil ambience is just perfect for keeping fond memories alive by re-creating a monument-like tomb to preserve and cherish remembrance and to honour those who rest in peace.Lee Yee musical tomb was a tribute for the remembrance of this late renowned artiste in the 70s.
Zone NB
Zone NB bonds with a range of verdant hills, which is home to a vibrant of flora and fauna. The resulting tranquility pleases the mind as the poetic images of such settings conjure up ang ruffled state of innermost thoughts which bring about great fortune, passing down prosperity and posterity. Amitabha Buddha has the super natural power of assuming any form required in order to relieve suffering and provide enlightenment. Regarded as the personification of compassion and kindness, Amitabha Buddha is able to help sentient being eradicate ordeals and obstacles, and to get us out of the sea of sufferings. With the compassionate and merciful Buddha watching over the Zone NB, one gets to feel the love that enlightens and bond family together.
Get In Touch With Us
24/7, 365 Days A Year, Rain or Shine, We Are Here For You
Sales & Service Team
Address
Level 3, Wisma Nirvana
No 1, Jalan 1/116A,
Off Jalan Sungai Besi,
57100 Kuala Lumpur,
Malaysia.
Name Card