Christian Memorial Garden ,adjacent to the renown Nirvana Memorial Park, Semenyih, is a whole new, serene final resting ground for believers. 
Detailed landscaping which incorporates biblical iconography effectively reflects the sort of calm expected by individuals in emotionally challenging moments.
With their contemporary attraction, they will certainly appeal to Catholics and Protestants alike and orders are coming in by significant numbers.
設立在《世外桃源》的基督徒墓園,溫馨,靜謐,一如聖經中的伊甸園。花團錦簇,綠草如茵,加上一池明鏡映日月,舒適、愜意得就像一個人文自然公園。《世外桃源》裡的每一個分區,都以聖經中最受敬仰的人物來命名,這包括約書亞區、馬太區、雅各區和便則憫區,使基督教的朋友們,得以長久沐浴在這永生的人間天堂裡。
如今,這個地方乃安息環境的新指標,以環境青
蔥、秩序井然和幽靜氛圍取勝,加上聖像雕塑品,讓主家在悲傷哀痛之餘,也能擁有心中的平靜。
Christian Columbarium 
The artistic Christian Columbarium is a masterpiece of Christian bereavement care architectural design unlike any other in the market. It showcases a unique style that exudes a distinctive Christian character, one that gets best of both worlds: refined, exquisite design and contemporary idea. Elegant, Roman architecture complemented by white and silver color combinations, enhanced by sky roof that transmits warm sunlight into the columbarium brings out an air of refinement and serenity typical of any Christian memorial ambience.
基督骨灰殿
基督徒藝術骨灰殿是專為基督徒而設的獨特骨灰殿設計,它獨樹一幟的格調,標示出現代化基督徒骨灰殿固有的取向和考量,立竿見影的突出其與眾不同和別出心栽之處。
精巧出殿的骨灰殿外觀,更進一步加強這座骨灰殿的基督徒獨有風格,從而為本地的基督徒殯葬風貌,翻開了令人刮目相看的全新景象。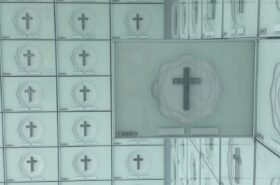 Get In Touch With Us
Sales & Service Team
Kelvin Yim
Life Managing Director
欲知产品及殡仪服务
For information on Products and Funeral Services
Name Card
Do you have an enquiry or require assistance? Please get in touch with us or fill up the contact form below.
EMAIL US